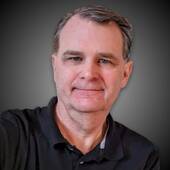 Education & Training
Craig Daniels
Technology Instructor/Project Consultant
Staten Island, NY

—

Tech Training for You!
Helping with Real Estate Technologies and Internet Presence and Presentations
Get to know Craig Daniels
Craig is a tech guy! He loves technical challenges and loves to teach others how to use technology effectively. You might have guessed that if you've spent any time browsing through his blog posts. If you haven't done so already, you may want to consider following Craig's blog here on ActiveRain to see his posts in your 'following newsfeed' (you'll find the 'follow' button directly above)
Craig resides in New York City and spends a full-time week as a Technical Director at an Architectural Firm. In 2009, at a point the economy was going through a substantial downturn, Craig's company at the time was cutting back work hours. In order to keep up with his financial responsibilities he was required to fill in part time hours with miscellaneous tech gigs. Coincidentally, he was just in the process of exploring the idea of relocating. This introduced him to the current state of Real Estate and its use of the internet and technology in the home buying process. Craig's experience with web design, marketing, and his interest in Architecture led him to make the tech support for Real Estate connection as a means for supplementing his primary occupation.
In 2010, Craig began to connect with the Real Estate professionals continent-wide after starting his Tech Blog on ActiveRain (a community of over 320,000 members). Since then, he has become one of the top 5 most subscribed to bloggers on the site. Some of the other milestones over the past six years in the Real Estate niche include: He has created websites from scratch for several agents. He has conducted regular weekly sessions via phone plus remote screen sharing to teach others how to leverage blogging, social media and other tech in their RE business. In the summer of 2011, he conducted a whole series of weekly webinars on various topics around blogging and social media. He has published two online pre-recorded courses where students can enroll and watch according to their own schedule of availability. He really enjoys the video medium for teaching. Several other courses are on the drawing board and hopefully will see published status in the near future.
For the past couple of years, Craig has been back in a full week schedule in Tech Support at his Architectural company. However, after getting a taste of tech blogging as well as meeting so many great people in the RE online community at ActiveRain, you will continue to see him around here (just not as frequently as times prior... there's just so many hours in a day!). Craig's email inbox continues to get a regular flow of small tech job requests that he is able to tackle in his moonlighting hours during the week. It is a good symbiosis where his blogging continues to benefit his readers with tech tips, meanwhile it keeps him in their mind when they have  little on-call tech jobs where they want to hire him for his specific assistance.
When Craig's computer is offline, you'll find him enjoying time with his wife and their 7 year old son. Craig's interests include working around his house (a 1925 home that has been a complete remodel project since they bought it). They enjoy travelling very much and the most oft chosen destination is Ireland. As far as sports go, playing tennis and snow skiing are his top two choices. The first thing Craig did after high school was to get his pilot's license. For years, he spent many hours at the controls cruising around the skies. It was an amazing life experience. Click here to see a post with one of his many aerial photos. His logbook has been closed for years now due to time and circumstance. However, anything aeronautical is still of great interest and he will gladly share in hangar talk conversations!
Craig Daniels's Blog Posts
|
ActiveRain Community
–

about 14 hours ago
Real Estate Technology & Tools
–

8 days ago
ActiveRain Community
–

23 days ago
ActiveRain Community
–

27 days ago
ActiveRain Community
–

11 months ago
ActiveRain Community
–

7 months ago
Craig's Classroom Videos
Introduction to Craig Daniels and the blogs and videos that you'll find when you subscribe to Craig's Classroom.
Testimonials for Craig Daniels
Craig is a virtual limitless fountain of information. Not only he is extremely helpful with social media and all that comes with it - If your blog needs tweaking, your website isn't what it should be or you don't know a thing about HTML, Craig is your guy. Subscribe to his blog and when looking for that needed help in your business. Remember, social media and our web presence in this day and age are crucial in most businesses. When you need help don't be afraid to go out and get it. Don't make the mistake of thinking you can do it alone and save a few precious dollars when spending that precious few can triple the rewards. I recommend him highly!

Barbara Hensley

03/09/2011

Craig's Classroom is the place to go and search answers for almost any real estate blogging technology issue. Craig loves sharing his knowledge and his passion for helping others. He likes to keep things practical and useful, resulting in a place where even non-techies feel comfortable! He talks in "layman" terms which is rare for IT people. Craig has achieved a very large audience and following in the ActiveRain community. Whenever my team has any technical question, we always head straight over to Craig's blog!

I've been relying and looking forward to every new class that Craig takes the time to write. His classes have helped me understand and put into place features and enhancements that I never would have been able to do had I not taken his classes. I find myself continually amazed at how easily Craig puts things together. Not only is he great at giving excellent explanations and steps on various advanced features, but he has taken the time to include visual effects and screen shots to help you "see" how it's done for yourself. If you're like me, having a "visual" example to look at while learning always helps speed up the learning process. I can't say it enough Craig. You are absolutely awesome!
Introducing a fresh new look for your Profile.
Click the 'Edit Profile' button below to enter 'Edit Mode' and continue the tour.